The Four Facial Oils You Need In Your Life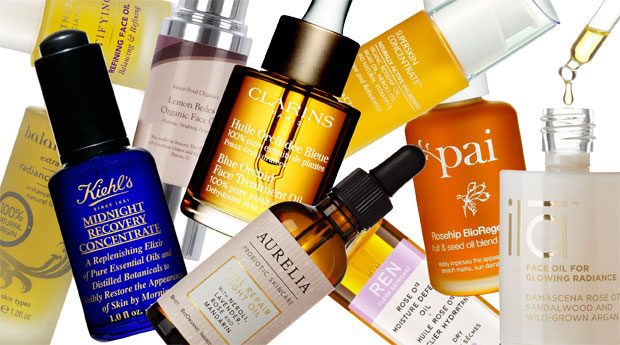 In recent years, the facial oil trend has taken the beauty world by storm, mainly because this practice basically defies every beauty rule you were taught as a teenager. The skincare trend, which appeared in mainstream media after Bobbi Brown launched their Extra Face Oil, sparked an industry-wide race to get on the oil bandwagon, which means there are hundreds of different oils that you can utilise to improve your skin. From dry, flaky skin to an oily complexion, whether you're 15 or 50, this new skincare craze is for you, and we're about to teach you how to use some of these amazing oils.
Argan Oil -
Best for: Moisturising
While Argan oil has been known for its wonderful moisturising properties for skin and hair, this super oil actually contains antioxidants that improve the firmness, elasticity and complexion of aging skin, while moisturising all complexions. Apply a couple of drops to your face and massage into skin (like you would with moisturiser) and let your skin reap the rewards.
Try Physicians Formula Argan Wear Ultra Nourishing Oil - $25.95
Jojoba (not actually an oil) -
Best for: Anti-ageing
While this liquid wax isn't actually an oil, but still works wonders for you skin. By mimicking your skin's natural sebum production, this wonder wax retains moisture and absorbs deep into your skin to help fight signs of ageing naturally.
Try The Jojoba Company 100% Natural Australian Jojoba - $19.95
Tea Tree Oil -
Best for: Acne
Using tea tree oil as a spot treatment for blemishes is the best natural remedy, so good in fact, that it's been scientifically proven to match the anti-blemish effects of benzoyl peroxide. Apply a small amount of this natural blemish remover directly to your spot using your finger or a q-tip, allow to dry and voila!
Try THURSDAY PLANTATION 100% Pure Tea Tree Oil 15 mL - $6.99
Grape Seed Oil -
Best for: Oil control
I know it's daunting, and frankly sounds pretty ridiculous, but grape seed oil does wonders for oily skin. If you find yourself reaching for blotting papers or powders by 2pm, buy yourself some GS oil, it's also packed with Vitamin C and antioxidants to control oil while brightening your skin! Apply a few drops to your fingertips and massage into your skin.
Try Arcona Wine Oil - $88